LASER World of PHOTONICS 2019, Han's Laser came again!

Release-Zeit:2019.06.30

Ansichten:1318Times
At 9:00 am of June 24th, 2019, LASER World of PHOTONICS 2019 opened at the Messe München exhibition center. LASER World of PHOTONICS is the world's leading exhibition and trade fair with a technical congress for Photonics Components, Systems and Application. This program is held every odd year in Munich, Germany and has been delivering a world-leading product for the past 45 years. LASER World of PHOTONICS is the only professional optoelectronics fair in the world that covers all the categories of optoelectronics industry. In
2019
, the LASER World of PHOTONICS Congress attracted nearly 33,000 visitors, including
1300
exhibitors from 4
5
different countries.
The exhibition covered almost all optoelectronic products with the area of 550,000 square meters.
(The
Messe München exhibition center
)
At this year's exhibition, there are a variety of innovative, technologically advanced new products, new solutions and application technologies. The exhibition only allows professional visitors to visit the museum, including research institutions, high-tech companies, laser and optoelectronics companies, physicists, chemists, engineers, system developers, industry service providers. It is an excellent platform of commercial trade and technology communication for many manufacturers, buyers, traders and investors.
As a leader of the laser equipment manufacturing industry in Asia, Han's Laser has participated in LASER World of PHOTONICS
for 10 years since 2009. At this year's exhibition, the machines showed by Han's Laser are professional and comprehensive. The Group's major production lines showed their representative machines,
covered laser marking, welding, cutting and other processing fields,
including G20 laser marking machine, CNC high-speed cutting machine and SFP150W laser welding machine, automatic jet dispensing machine and so on.
Han's Laser Smart Equipment Group's high-power laser cutting machine also plays an important role in the booth. In addition, a three-axis motor module platform of Hans Motor and a 3KG cooperative robot of Han robot, as well as two representative machines of Baublys also staged in this exhibition. It is worth mentioning that this exhibition also showed the latest laser models and galvanometers scanners from different production lines, which can more comprehensively demonstrate company's technology research level.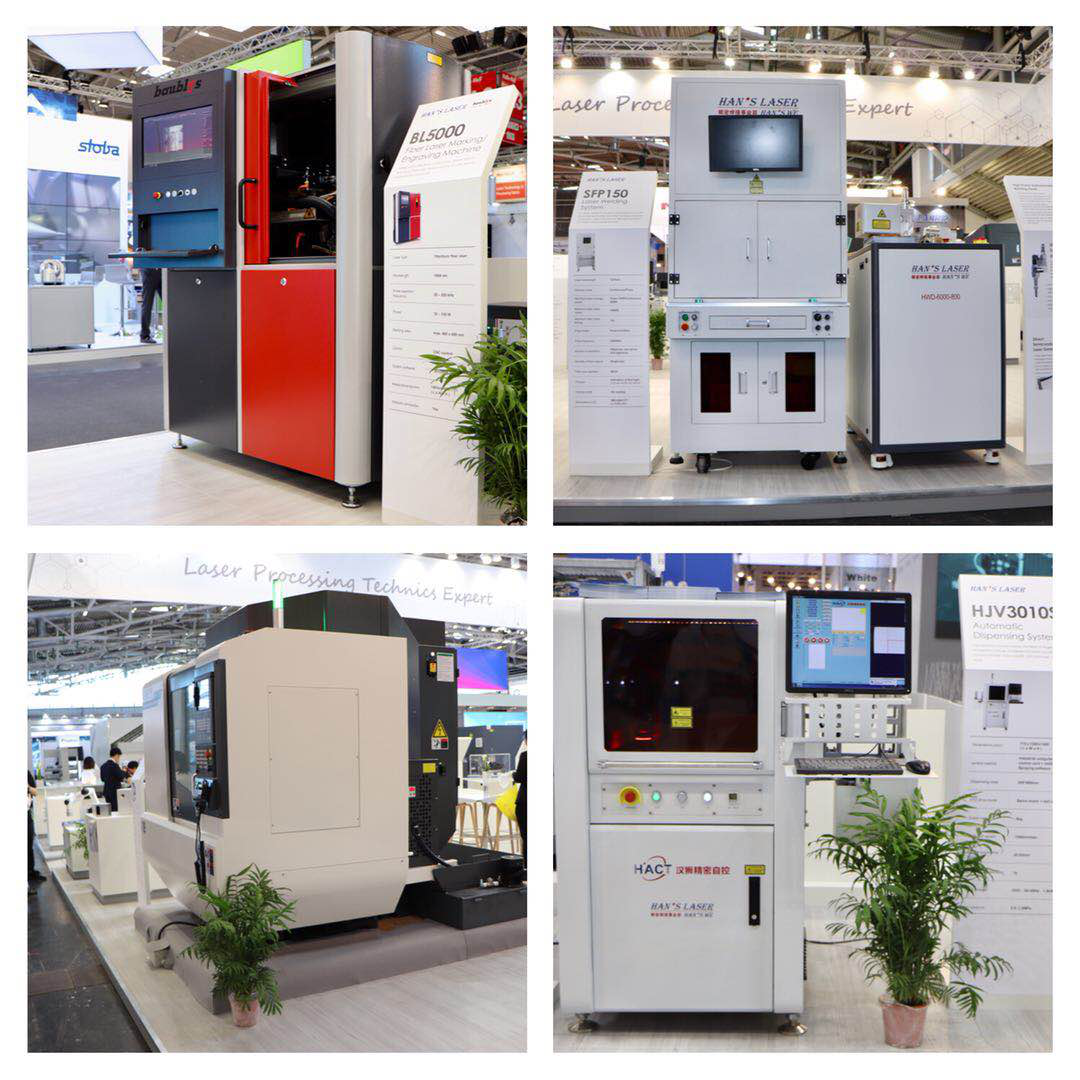 (Main model machines and some samples of Han's Laser)

(laser models and galvanometers scanners)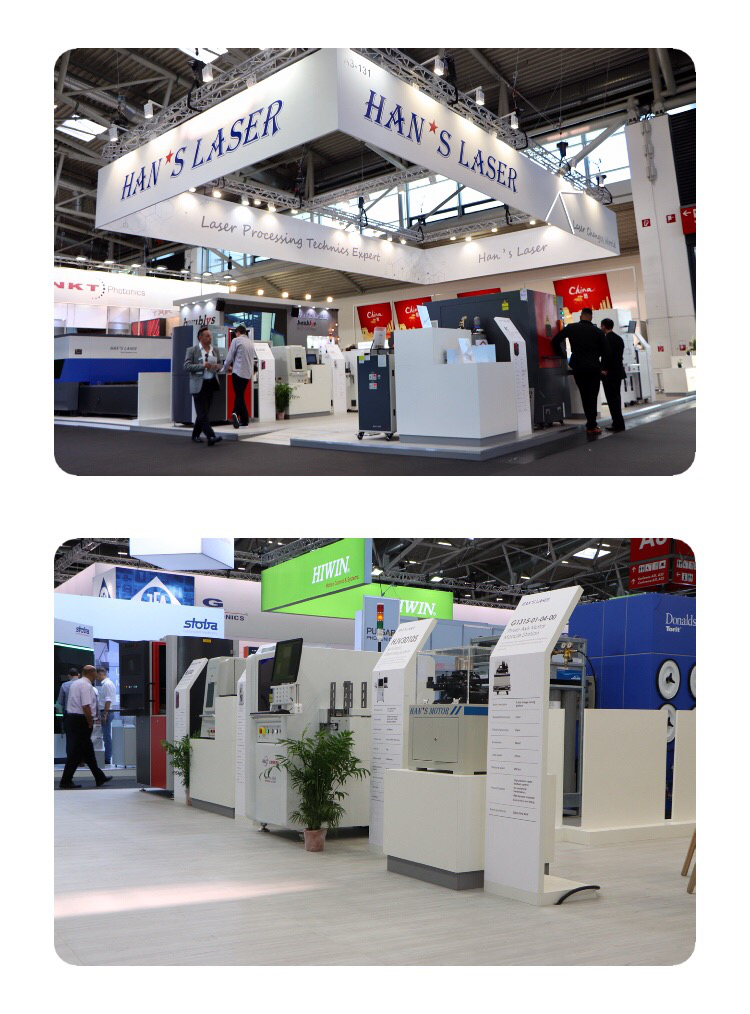 (Han's Laser Exhibition site)
In the exhibition hall with a total area of 550,000 square meters, Han's laser booth occupied an excellent position with an area of 221 ㎡. Since the first day of the exhibition, it attracted people from all over the world.
The exhibition focused on the optoelectronics industry with high professional degree. Therefore, all sizes of enterprises in laser industry attach great importance to this exhibition. At the Han's laser booth, regardless of laser marking machine, laser welding machine, CNC high-speed cutting machine or high-power cutting machine, all kinds of machines attracted a large number of professional visitors. The models exhibited are all passed the CE certification. According to their own processing needs, visitors can get professional information from our exhibitors.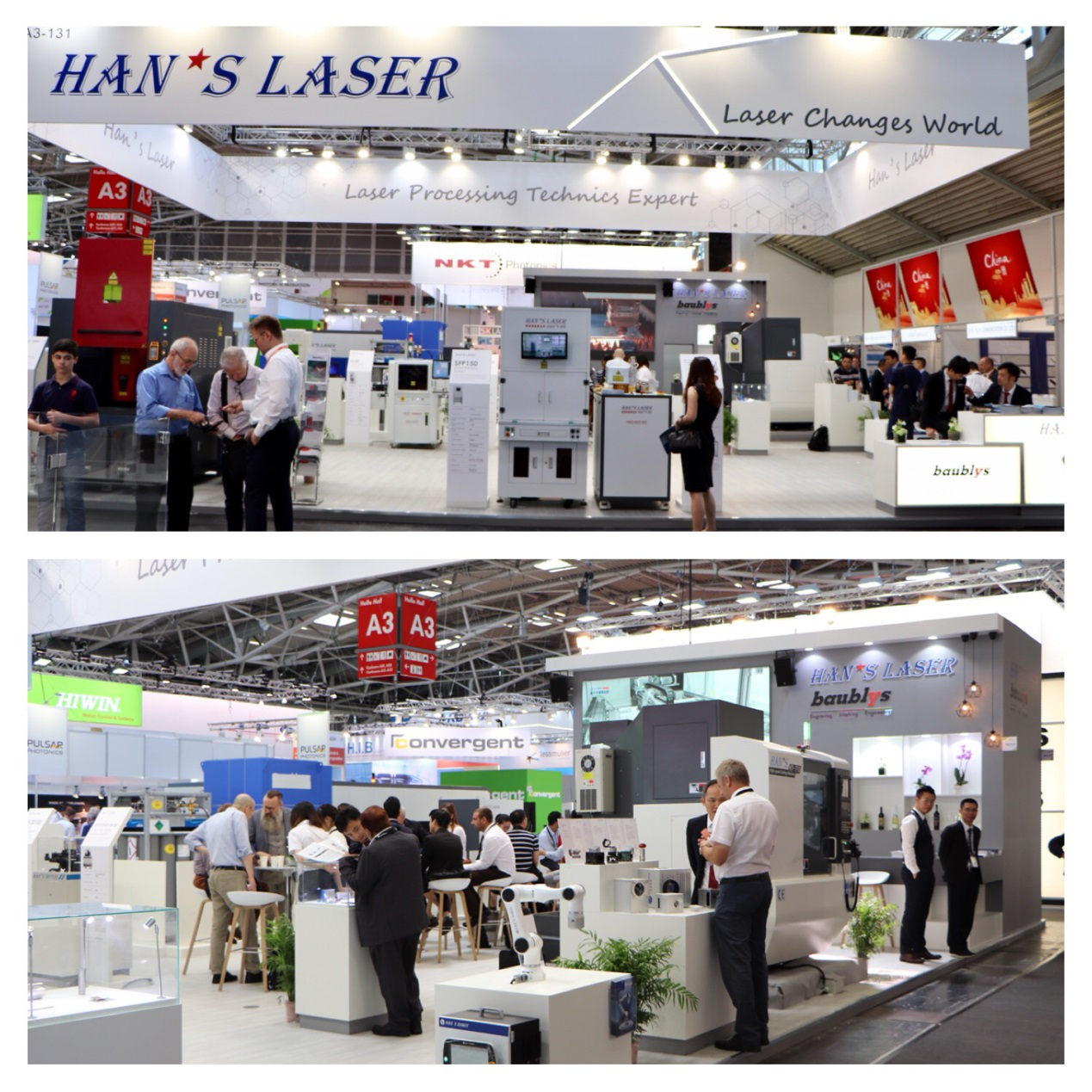 (Hans Laser's exhibitors explains machine for visitors)
During the exhibition, Zhao Guanghui, the GM of IT Key Customers Headquarter, Lv Qitao, the GM of Laser and System Business Division, Chen Yan, the GM of Han's Laser Smart Equipment Group, Wang Jing, the GM of Precision Welding product line, came to exhibition site to guide work. By this great platform, General Manager Zhao researched the latest R&D technologies of competitors and potential cooperation opportunities in laser processing field in the exhibition. He also had a technical exchanges and business needs negotiations with exhibitors from TRUMPF, Coherent Group, IPG Group, and Precitec Group.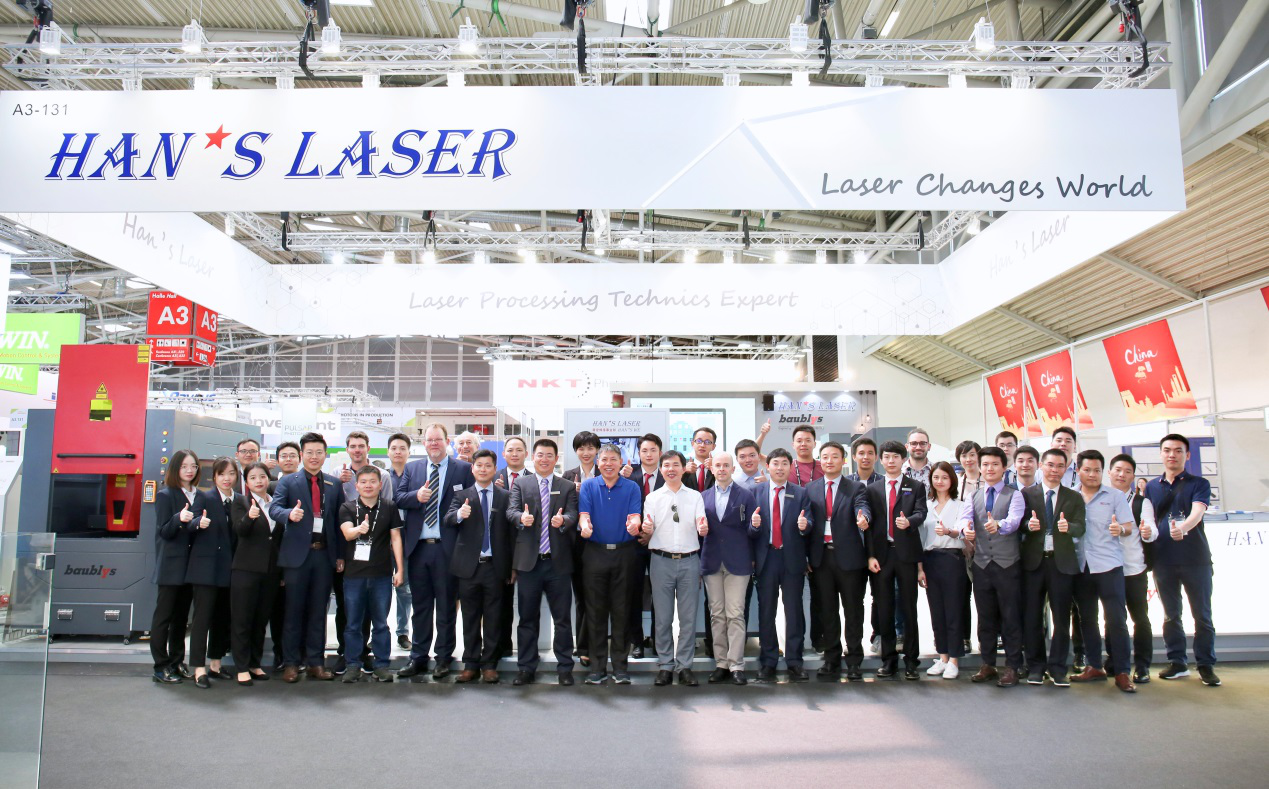 GM Zhao and exhibitors in the Han's Laser booth)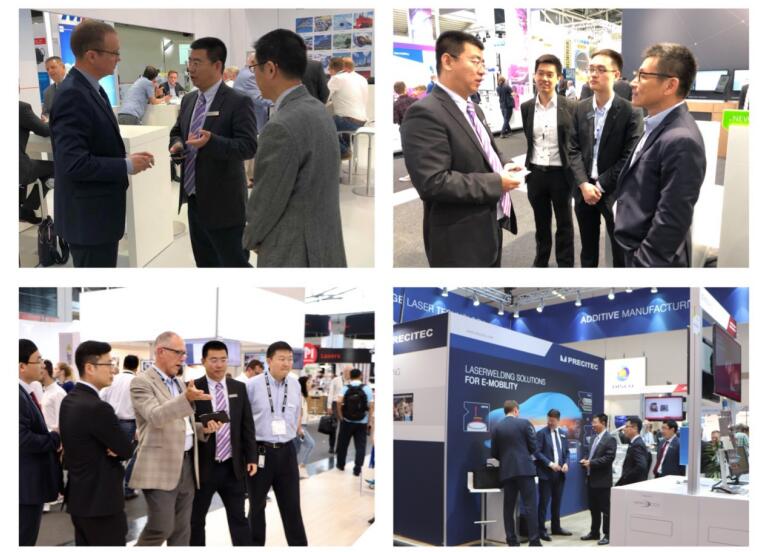 (GM Zhao communicates with TRUMPF, Coherent Group, IPG Group, and Precitec Group)
In this exhibition, we have a great team with professional and experienced sales manager, technical engineer and exhibition coordinator. We prepared abundant color pages of many different kinds of machines, There are also some samples and gifts for visitors in exhibition site. The exhibitors introduced the model machines for visitors enthusiastically and professionally, exchanged name cards and distributed the company's product color pages orderly. For potential customers, the exhibitors demonstrated the machine and made samples, record their processing needs in detail. Exhibitors also actively studied the latest technologies of competitors in the exhibition hall, and research on the latest demand in the current laser processing market.
During this exhibition, we are also aware of the fierce competition in the present market. With the vigorous development of high-tech industry, the leading enterprises in the laser industry continue to increase R&D investment, and strive to expand overseas market. In the meantime, the emerging enterprises have also sprung up. Under such market competition, Han's Laser will continue to innovate and actively respond to the ever-changing market, to serve all customers with a better look!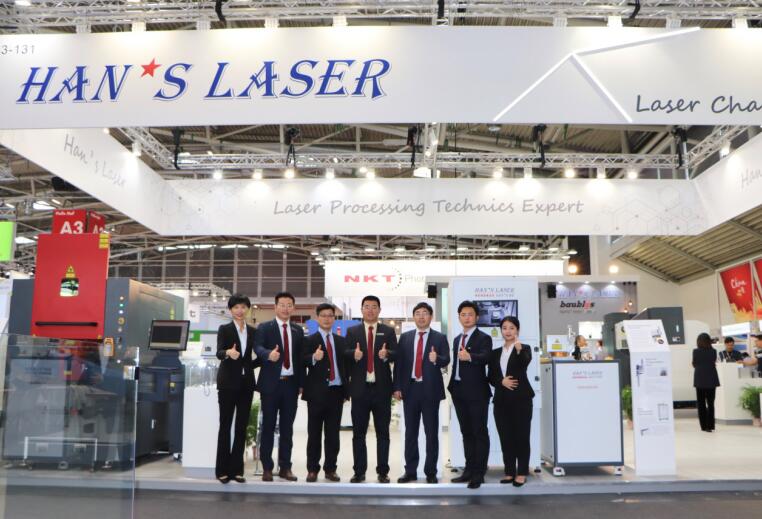 (GM Zhao communicates with Hans Laser IT Key Customers Headquarter)
LASER World of PHOTONICS 2019 began on June 24 and ended on June 27. We hope that this exhibition will bring to more order cooperation opportunity and higher level technical communication to Han's Laser Group!