Han's Laser Staged In 2019 Hannover Messe

Release-Zeit:2019.04.04

Ansichten:587Times
In April 1st 2019, the Hannover Messe opened in AG Messe gelände D-30521 Germany. Since it established in 1947, Hannover Messe has become the most influential industrial exhibition in the world, which is regarded as the "wind vane" of global industrial technology development. The 2019 Hannover Industrial Exhibition, with the theme of "Integrated Industry – Industrial Intelligence", attracted nearly 6,500 exhibitors from 75 countries and regions. It is worth mentioning that the number of Chinese exhibitors reached a new record of 1,300, which is next to the host Germany. Exhibitors are mainly divided into "hardware" giants represented by Siemens, Ericsson, Huawei, Nokia, etc. and "software" giants represented by Microsoft, IBM and Amazon. Automation, Human-machine collaboration, Artificial Intelligence, and 5G mobile communication technology applications became the focus of this exhibition.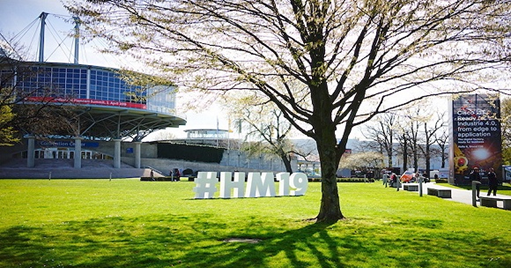 (P1:The Square of Hannover Messe 2019 )
German Chancellor Dr. Angela Merkel, in partnership with Stefan Löfven, Prime Minister of Sweden, formally opened the event at March 31st night in the presence of 2,500 invited guests, including more than 100 CEOs of the leading industrial corporations.
"Hannover Messe is the only platform worldwide that provides a holistic, integrated perspective on the key themes and trends shaping the future of the industry," said Dr. Jochen Köckler, Chairman of the Managing Board of the show's organizer, Deutsche Messe.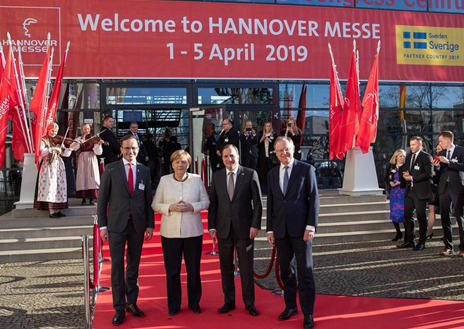 (P2:German Chancellor Dr. Angela Merkel, with Stefan Löfven, Prime Minister of Sweden in the opening ceremony)
As a leader of the laser equipment manufacturing industry in the world, Han's Laser has participated in the Hannover Industrial Exhibition for four years. And this year. Han's Laser participated with Baublys Laser Gmbh, a Germany subsidiary and Han's Robot. The exhibited models include G20 laser marking machine, CNC high-speed cutting machine, SFP150W series laser welding machine, automatic jet dispensing machine and Elfin series collaborative robots, covering laser marking, welding, cutting and other processing fields. The two collaborative robot arms of different weights show the achievement in human-machine collaboration of Han's laser. Baublys Laser Gmbh, also showed two advanced machine - BL5000 laser marking machine and BC fiber laser cutting machine. It is worth mentioning that all model machine have got CE certification, which is highly consistent with the "Industrial Safety", a major theme of Hannover Messe 2019.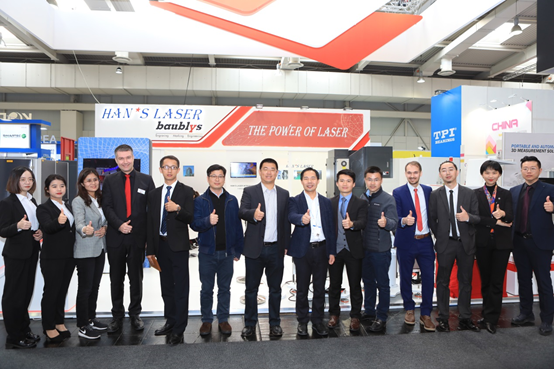 (P3:GM Zhao and exhibitors in the Han's Laser booth )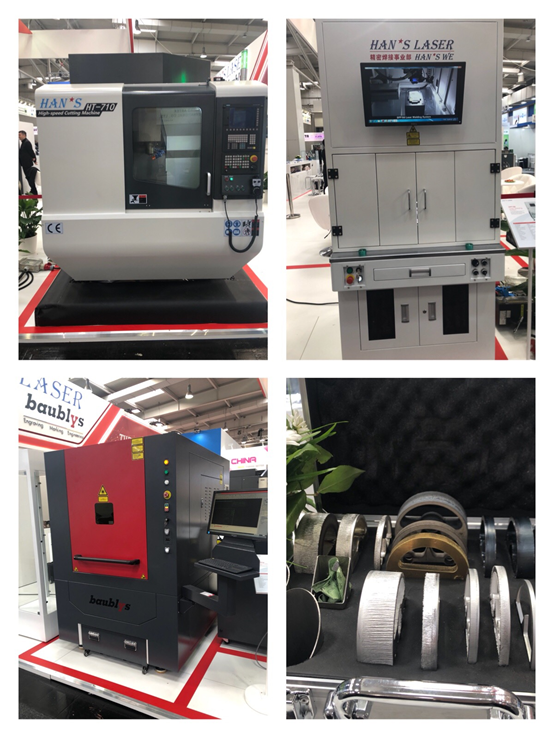 (P4:Main model machines and some samples of Han's Laser)
In the exhibition hall with a total area of 350,000 square meters, Han's laser's booth is located in the center of the exhibition hall, with a booth area of 118 ㎡. Since the first day of the exhibition, it attracted people from all over the world. During the exhibition, Zhao Guanghui, the general manager of IT Key Customers Headquarter, Chen Yi, the general manager of Han's Intelligent Equipment Subsidiary, Guo Qijun, the deputy general manager of precision cutting product line, and Wang Guangneng, the general manager of Han's Robot, came to exhibition site to guide work. By this Hannover Messe's great platform, General Manager Zhao researched the latest R&D technologies and models of competitors in the exhibition, and studied deeply about current development trend and potential cooperation opportunities in laser processing field. THK Group, an important supplier of Han's laser, also participated in this exhibition, Mr. Zhao had a deep communication with them in the exhibition site. And he also visited a number of key customers' factory around Germany, including VARTA, OSRAM, SKF, BBS, STIL, Horses, etc. for new and old projects.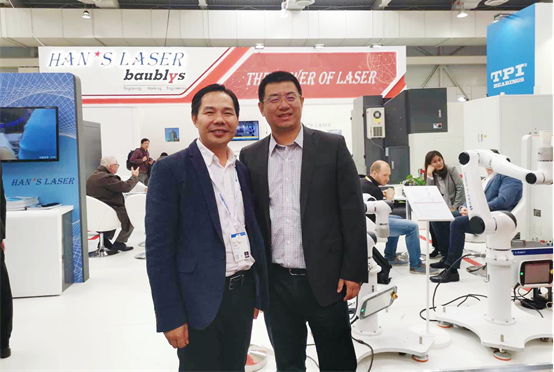 (P5:GM Zhao and GM Chen(Han's Laser Smart Intelligence Equipment Headquarter))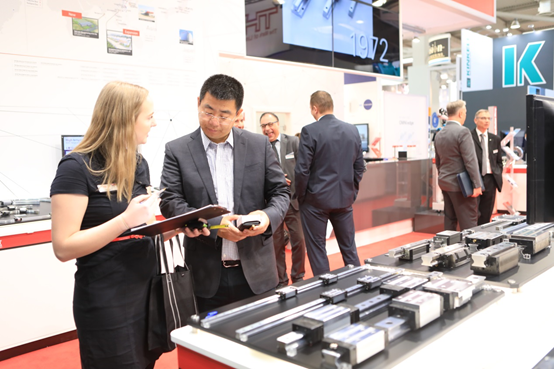 (P6:GM Zhao communicates with THK's exhibitor, THK is an important supplier of Hans Laser)
On April 2nd local, General Manager Chen Yi of the Han's Laser Intelligent Equipment Group signed a strategic cooperation agreement with the general manager of the Wittenstein (a well-known German electromechanical manufacturer) at the exhibition site, The two sides will strengthen cooperation in the fields of servo system and automation, which can enhance mutual global competitiveness.
In this exhibition, We have a great team with professional and experienced sales manager and engineer, and we prepared abundant color pages of many different kinds of machine, There are also some samples and gifts for visitors in exhibition site. The exhibitors introduced the model machines for visitors enthusiastically and professionally, exchanged name cards and distributed the company's product color pages orderly. For potential customers, the exhibitors demonstrated the machine and made samples, record their processing needs in detail. Exhibitors also actively studied the latest technologies of competitors in the exhibition hall, and research on the latest demand in the current industrial processing market.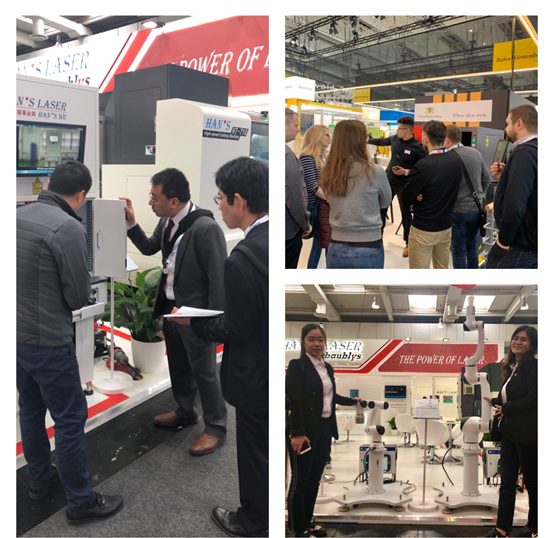 (P7:Hans Laser's exhibitors explains machine for visitors)
This exhibition is a collision and integration of "software" and "hardware". As a high-tech enterprise which integrated equipment manufacturing and software R&D, Han's Laser reflected the theme of the Industry 4.0 Era: Providing business the intelligent solution. Chairman Gao Yunfeng of Han's Laser put forward to a concept "Removing laser" at 2019 annual meeting, which means all machine and software should be developed by customers' requirement and laser processing technology is just a way to achieve it. To achieve this aim, Han's Laser will continue to provide more professional and convenient service to all global customers by customer demand-oriented strategy in the future.
The Hannover Fair officially began on April 1 and ended on April 5, with more than 220,000 visitors expected. We hope that this exhibition will bring to more order cooperation opportunity and higher level technical communication to Han's Laser Group!